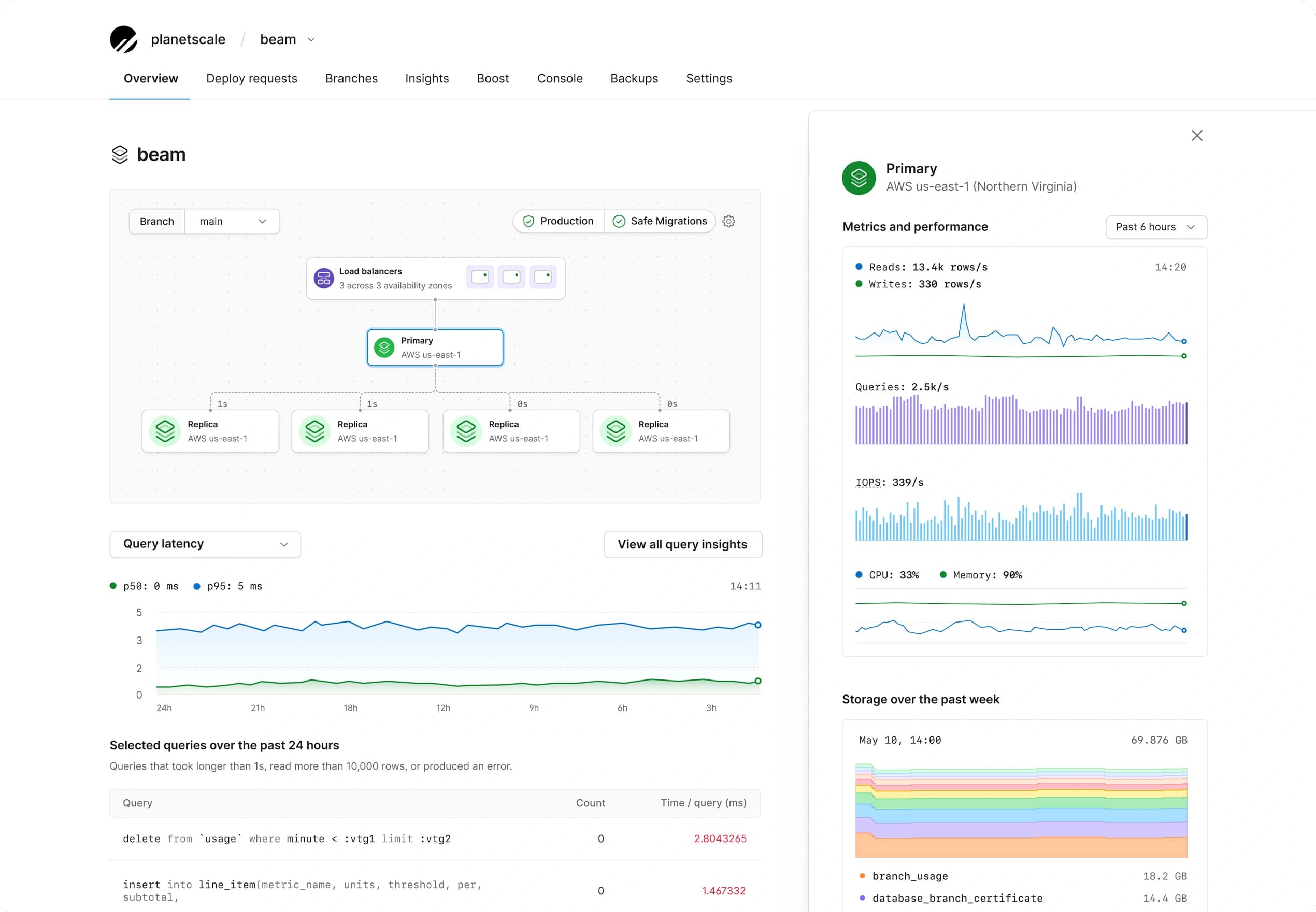 Powered by
open source tech
Built at Google to scale YouTube.com to billions of users, Vitess is the world's most scalable open source database.
"
Databases are hard. We would rather PlanetScale manage them. Our team wants to focus on helping our customers meet their health and fitness goals, not the database servers."
Chris Karper
Engineering Director, MyFitnessPal
Connect and scale
PlanetScale is compatible with all major frameworks and languages. No matter your stack, you can scale with us.
Introducing
PlanetScale Boost
Beta
Up to 1,000× faster queries
with our groundbreaking caching technology
In just a few clicks, PlanetScale Boost makes the queries you choose faster.
Find a slow query pattern using Insights and activate PlanetScale Boost.
No TTLs, no invalidation logic, and no caching infrastructure to maintain.
Learn more about PlanetScale Boost
Find problems
in real time
Fully integrated and real-time insights into your database performance. No third-party application monitoring platform required.
Deliver consistent performance for your users by finding poor performing queries in seconds
Better understand your billing usage through visibility into how many rows your queries scanned
Tag your queries inside your application and drill down to find problems
Real-time performance feedback.
"
PlanetScale hits all three things that matter to me as an engineering leader: A system I can trust, cost structure that scales with me, and a huge boon to my team's overall effectiveness."
Todd Berman
CTO, Attentive
"
Migrating from Amazon RDS to PlanetScale was painless and since moving we've experienced significant improvements in reliability, scalability, and productivity."
Andrew Barba
CTO, Barstool Sports
Northern Virginia
(us-east-1)
Primary
Singapore
(ap-southeast-1)
Read-only
Create read-only database regions to support globally distributed applications and better serve your users worldwide.
Low operational overhead: Spin up as many regions as you need with the click of a button
Lower database read latency by reducing the geographic distance between your users and reading data
Your data,
wherever you need it
Make your PlanetScale data accessible across your organization by safely extracting and loading data from PlanetScale into other databases, such as BigQuery, Snowflake, or Redshift.
Extract data to other sources
Supports analytical workflows
Extract, load, and transform your data.
The enterprise-grade security and privacy practices your data deserves.
Migrate to PlanetScale in
three simple steps
Successfully connected
Connected to prod-db on legacy.database.org
Performing initial import from external database
Table
Status
users

4,123

rows imported
pull_requests

254,998

rows imported
issues

844

rows imported
stratocaster
Keep your existing database running while we do the import
No need to dump data or restore from backup
Migrate fully online with no downtime
You've done all the work already.
Let us take it from here.
Manage your database
without leaving the terminal.
Connect to your PlanetScale database with a fully functional shell for importing data, querying, and more.
Control your workflow
Create databases, branches, deploy requests, and more from the command line
Hassle-free database connection with

`pscale connect`
$
brew install planetscale/tap/pscale
Our "database." hats are pretty cool, too.
The last database you'll ever need
Your business deserves a
predictable database.
Never worry about another 3am wake-up call saying the site is down. 
Give your engineers the power they deserve with a PlanetScale database today.