Announcing the PlanetScale and Hashnode July Hackathon
Build an open-source project and compete for $20 000 in prizes and swag!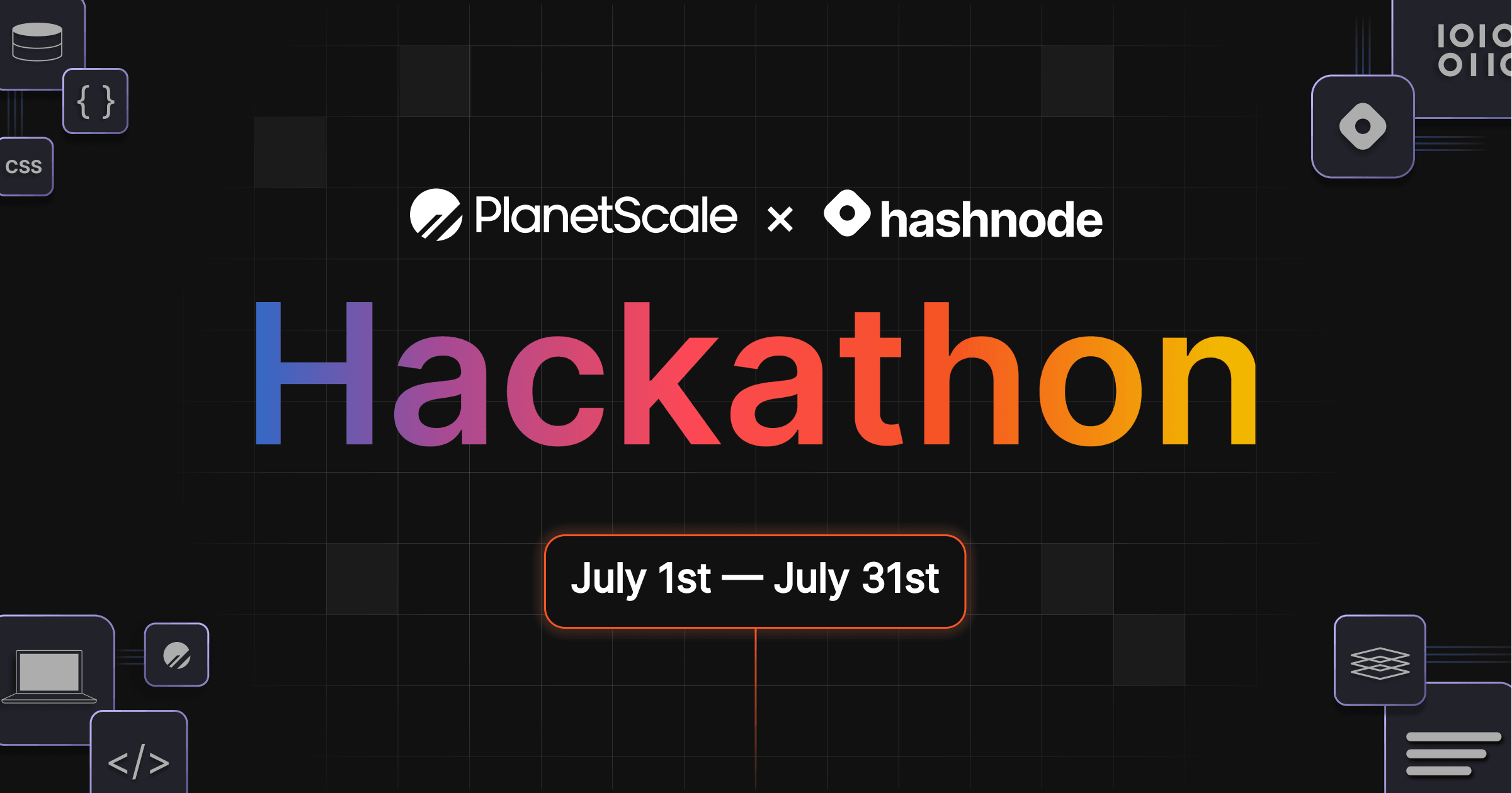 We are excited to announce that we have partnered with Hashnode to run a hackathon for the entire month of July. This hackathon is your opportunity to use your creativity to build an open-source project using PlanetScale while competing for $20,000 in prizes and swag.
This hackathon is open to anyone excited to learn and build. To be eligible, use PlanetScale in an open-source application you create during July. Then, you will need to share your idea in a blog post on Hashnode. If you do not have a Hashnode account yet, you can set one up for free.
Outside of PlanetScale, you can use whatever technology stack you choose. You can use this as an opportunity to learn a new language/framework or build with the tech stack you already know and love. The choice is yours.
We would love to know how you are doing along the way and how we can help, so make sure to share updates on Twitter by tagging @planetscale and @hashnode.
Make sure to submit your project before the deadline listed here:
Jul 1st, 2022 (00:00 PT): Hackathon begins.
Jul 31st, 2022 (23:59 PT): Deadline for submissions.
2nd Week of August: Winners will be announced.
Here are a few resources if you are looking for inspiration or help while building your project:
If you are just getting started with PlanetScale, our Quickstart guide doc is a great introduction.
We will also be running weekly Q&A sessions on Twitch this month. Make sure to follow the PlanetScale Twitch Channel for updates.
We are thrilled about this Hackathon and cannot wait to see what you all build. If you are as excited as we are, help us spread the news by letting us know in this tweet.